About Justin Nielsen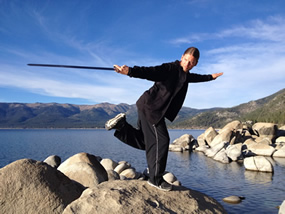 Training Using Four Directions.
It is the mission of Four Directions Healing Arts to provide a conscious workout that integrates fitness and physical well-being as a way of life. In this conditioning system we focus on melding Western and Eastern exercise, that being techniques and philosophies. This allows for routines which fulfill the need for profound change and a means to sustain excellent health. Our approach is simple:  Training is an art, you're the artist, these exercises and techniques are the tools to refine your art. To become great at something you have to work for it and develop your skills. Four Directions Healing Arts is your internal compass that will guide you to find the movement that matters.    
News & Updates
36 Benefits of Practicing Qi Gong
The alignment of your body is key, especially when exercising, weather it's working out in a gym moving weights or having a smooth flowing Tai Chi or Qi Gong practice. It's very important to be aware of your alinement and how you move with it. Here are a few tip on alignment.
There are 4 different types of gluten responses. Sensitivity - reaction to wheat Allergy - immune response Intolerance - unable to tolerate (this is long term effects, and excessive stress to the intestinal track.) Celiac Disease- this is a genetic intolerance (long time damage to intestinal track, the nervous system, the hormones, liver, blood system, muscle/skeletal system) 1 in 150 people have Celiac disease and only half or less are diagnosed.
read the blog
Testimonials
Justin's training has completely transformed me physically and mentally and I find my eating habits are changing to match my workouts.
by Mike
"Half-way through the first session I began to feel more calm and centered. I have more mobility and flexibility in my other workouts and am able to practice some of the skills at home. My son (age 14) has enjoyed several sessions and is always more agreeable afterwards. We can't thank Justin enough."
by Cathy Johannsen
Qi Gong with Justin has helped me to strengthen and support my physical self as well as my emotional self. It provides me with a tool to tether my thoughts so that I can be present in the moment. The movement provides an opportunity to flow smoothly and freely without pain. The combination is beautiful and fulfilling.
by Susan Nelson